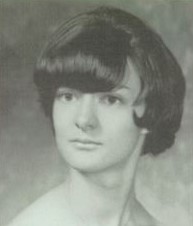 Sep 26, 1955 – Dec 16, 1984
Obituary: Napa Valley Register, Dec 20, 1984
LOS ANGELES – Joy Smith, a resident of Fullerton the last two years, died Sunday at Kaiser Hospital in Los Angeles. She was 29.
Mrs. Smith was born in San Francisco and graduated from Vintage High School.
She was a member of the Church of Latter-day Saints.
She is survived by her husband, David of Fullerton; her mother, Juanita Decia of Napa, her father, Adolph Mangini of Ignacio; and a brother, Alan G. Mangini of Modesto.
Graveside services will be held Friday at 11 a.m. at Tulocay Cemetery. Arrangements are under the direction of McAulay and Wallace Mortuary in Fullerton.