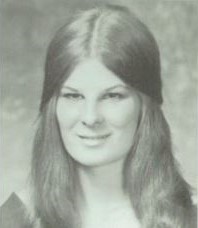 Aug 02, 1955 – Nov 03, 1992
Obituary: Napa Valley Register, Nov 10, 1992
   CAMINO – Robin Lucille Clark Bruce, 37, died here unexpectedly Nov. 3 at her home.
   Born in Vallejo on Aug. 2, 1955, to Ward and Dorothy Clark, Mrs. Bruce graduated from Vintage High School.
   For the last six months, she was employed as a graphics artist at Printing Press in Placerville.  She had also worked for many years for the California State Department of Corrections and was responsible for the installation of the coffee roasting plant at Mule Creek State Prison in Ione.
   Mrs. Bruce is survived by her husband, James of Camino; two daughters, Amy Santiago and Meghan Takahashi, both of Camino; two stepchildren; her parents, Ward and Dorothy Clark of Napa; a sister, Dena McGraw of Napa; her grandmother, Arlene Clark of Couer d' Alene, Idaho; and a niece.  Two children predeceased her.
   No services will be held.  Interment was at Tulocay Cemetery.  Arrangements were under the direction of Chapel of the Pines Funeral Home in Placerville.