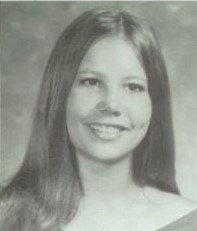 Feb 21, 1956 – Aug 20, 2001
Carolyn L. (Gall) Delacruz, 45, of San Diego died Monday after a lengthy illness at the La Jolla Veterans Administration Hospital in San Diego. She was born February 21, 1956, at Travis Air Force Base. As an Army brat, she traveled extensively in Europe with her military career father and family.
Carolyn was raised and educated primarily in Napa. She initially attended elementary school in New Jersey but continued her education at Redwood Junior High School and was a member of the initial graduating class of Vintage High School. Carolyn enjoyed sports and had a passion for reading. She served eleven years as a medic in the United States Navy with stations in Hawaii, Spain, and the Pacific.
Carolyn is survived by her parents Chief Warrant Officer 4 Theodore Gall, United States Army retired and Harriet L. Gall; sister and brother-in-law, Barbara L. and Victor A. Franco; brother and sister-in-law Daniel R. and Sally Gall of Amado, Ariz.; four nieces, Alynda and Karyn Franco of Napa, Erin and Shaun Gall of Amado, Ariz; and godfather LtCol Dow J. Richter (USAF Retired) of Yountville.
Internment was at Tulocay Cemetery, with a memorial service at Tulocay Chapel, on August 25, 2001.