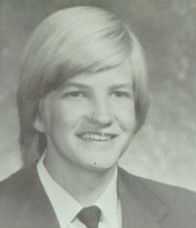 Oct 14, 1955 – Oct 24, 1976
   John E. Dunlap, 21, died Sunday at the Queen of the Valley Hospital following a single car accident.
   Mr. Dunlap was born and raised in San Francisco.  He came to Napa in 1968.  He attended Redwood Jr. High School, Napa High School and Vintage High School, graduating with its first class.  He went to work as a retail clerk at Wine Valley Market.  Later he was employed at Kaiser Steel as a Machinist.
   He is survived by his wife, Karen Dunlap; his parents, Mr. and Mrs. John Dunlap of Napa and his maternal grandparents, Mr. and Mrs. M.J. Moret of Sherwood, Ore.
   Funeral services were held, October 28, 1976, at the Chapel of Richard Pierce Funeral Service. with the Reverend Erwin Bollinger officiating.
   Interment was at the Napa Valley Memorial Cemetery.
   Pallbearers were: Joe Isola, Mike Imel, Jeff Quimet, Ed Fonville, Tim Pridmore and Gary Caravates.