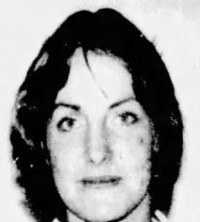 Aug 15, 1955 – Jan 20, 1979
A memorial service was held January 26, 1979 at Skyview Memorial Chapel in Vallejo, California, for Pamela King John, 23, a former Napa resident.
    Mrs. John's body was discovered Saturday in the Napa River.
    Born in San Francisco, she came to Napa as a youngster and attended schools here, graduating from Napa High.  She later attended Napa College.
    Mrs. John lived in Vallejo the past five years.
    Survivors include her husband, Vernon B. John of Napa, a sister, Patricia Gondola of Napa, brothers Vincent King of Vacaville and Tim and Kevin King of Vallejo, her father, William R. King of Napa, and mother, Fern King of Vallejo.